How Funadiq.com Contributes To Your Business Success
By Funadiq Team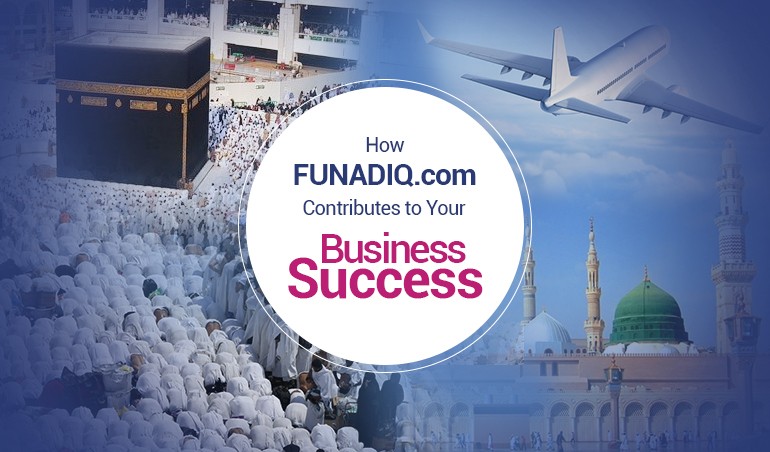 Millions of Muslims gather from different parts of the world for the sacred journey of Hajj and Umrah. Pilgrims want to avail the services of travel agents that are efficient and affordable at the same time.
Customer satisfaction and your business success are directly interlinked to each other, so you need to develop effective strategies on the basis of pilgrims mindset.
If you are not achieving the desired goals for your Hajj and Umrah business then you should approach Funadiq.com, a B2B platform that meets all needs of travel agents in an efficient manner. It's a one-stop that caters latest industry solutions to Hajj and Umrah travel organizers.
Here's how Funadiq.com makes a positive contribution to your business.
Hotel Rooms Booking
The major concern of pilgrims is the accommodation because they want a place that can make their stay comfortable during the journey.
Funadiq.com provides best deals for Umrah and Hajj at discounted prices of non-star and 5-star hotels.
It gives you a lot of options to provide services to the customers having a different budget range so you can develop a large customer base in this way.
Transportation
By connecting with reliable transport companies, Funadiq.com ensures the presence of comfortable vehicles and experienced drivers. You can also get Makkah hotels booking near haram so you don't have to travel a long distance.
Hajj and Umrah journey can be very hectic as pilgrims have to travel frequently from one place to another.
Funadiq.com only suggests the best transportation arrangements, Funadiq.com ensures that a smooth ride gives your pilgrims a worry-free Umrah. In this way they'll also be able to focus on the prayers in a much better way and eventually, it will make a positive impact on your travel agency business.
Catering
Being from different cultural and social backgrounds, food preferences of pilgrims are also different. Funadiq.com has connections with reliable catering companies that have been in the business for many years. We have various catering solutions and providers to meet the needs of each pilgrims ethnicity and cultural background.
Conclusion
Making the best arrangements for pilgrims is a huge challenge for travel agents and achieving your business goals is even bigger. Funadiq.com is a solution of all your Hajj & Umrah needs, so join funadiq.com now If you want to strengthen your place in the market.