Funadiq.com Is Maqam Certified!
By Funadiq Team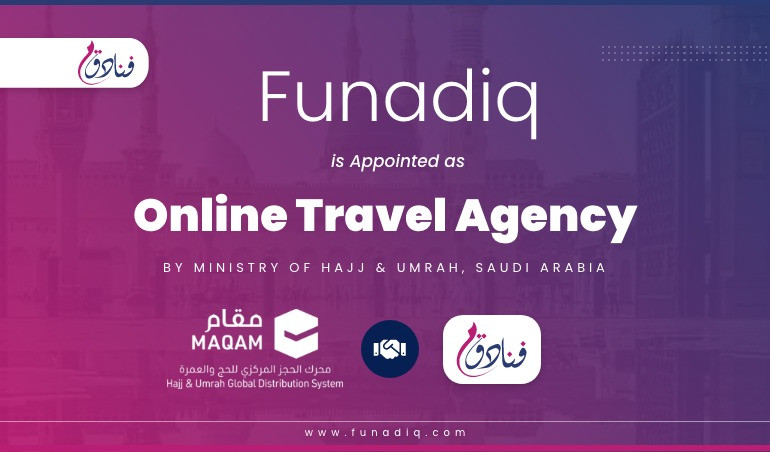 Umrah Maqam GDS to issue umrah visa - a system of Ministry of Hajj & Umrah (Global Distribution System), All praises to Allah SWT who is merciful on its creation in the manners and ways that are beyond our comprehension. We are humbled and excited to announce that Funadiq.com is now officially integrated with MAQAM Umrah GDS, the new centralized Umrah reservation system by the Ministry of Hajj & Umrah, Saudi Arabia.
This connectivity will allow us to work alongside the leading names in Umrah and Hajj travel. We are honored to collaborate with the Ministry of Hajj and Umrah to achieve the Kingdom's vision 2030 by improving the overall umrah experience and host more Muslim pilgrims year after year. As well as assisting Muslims by providing them with the reliable, transparent and overall superior travel experience that they desire in this life-changing Muslim spiritual journey.
Maqam is the GDS (global distribution system) introduced by the Ministry of Hajj and Umrah in an attempt to digitize the full Umrah booking process and to promote transparency and revive the Muslim pilgrimage experience. The system provides complete information of Makkah and Madinah suppliers to the approved e-commerce sites such as Funadiq.com to facilitate hassle-free and reliable Umrah pilgrimage bookings.
The Maqam Umrah global distribution system can link services, rates, and bookings by consolidating products and services across all travel sectors, specifical reservations in Mecca & Madinah hotels, ground transportation, and meet and greet services to ensure Muslim pilgrims and the Umrah travel agents are getting confirmed bookings for the best price.
Through Maqam, Funadiq.com is able to further contribute to the digitalization of the Islamic pilgrimage while providing a reliable, safe, and seamless booking process. In order to become certified, companies must pass through a stringent application process to ensure their business goals align with those of the sacred Umrah experience itself.
We are honored to be certified along with only a few other global & local travel brands including:
UmrahTech.com
EasyUmrah
Rehal Umrah
Mawasim
Hotel Gate
Travel Softtech
Almoatamer
Mahatat Al Alam
Umraaateur
UmrahHolidays By Webjet
UmrahDeal
UmrahHub
Elaf Umrah
UmrahTrip
My Hotels
Zowar
HuloolUmrah
Alrajhi For Umrah
Anjum Hotels
OmrahGate
UmrahWay
Go Umrah
Tasheer
Muslims around the world have been waiting for the spiritual journey of Umrah in Mecca, Saudi Arabia to resume. We are excited to digitize this journey by making it easy, customizable and affordable so that Muslims around the world can now travel to Makkah and Madinah to perform the pilgrimage.
Umrah 2021 has many positive changes, with the introduction of the Umrah E-visa and DIY (do it yourself) Umrah packages that are available at our website Funadiq.com, you are in full control of your decisions.
Post-Covid traveling can be stressful and full of unknowns for many hence here at Funadiq.com we not only understand those concerns but we are prepared to help take some of that weight off your shoulder and let you focus on the spiritual experience you are about to endure.
Being Maqam certified allows Funadiq.com to provide global Muslim pilgrims and Umrah travel agents with a comprehensive platform for Mecca & Madinah booking hotels, transportation, ground services, and attractions within the Saudi Kingdom not to mention issuing Umrah E-Visas that are sent directly to your inbox in minutes, in one place and at unbeatable prices!
At Funadiq.com, we want to ensure that no matter how you choose to book your travel, whether it be through your traditional Umrah travel agency or online using Funadiq.com B2C, you will always receive the Funadiq.com promise; honesty, transparency, responsibility, and happiness. From here on out we want to ensure you that your information is safe with Funadiq.com Umrah OTA and you will be receiving an unforgettable travel experience to Mecca.
Next time you go to an umrah travel agent you must ask them to give you an umrah package from Funadiq.com so we can support you at each and every step of your spiritual journey to Mecca, Saudi Arabia.
What are you waiting for? Visit Funadiq.com to start browsing our deals and booking your next Umrah trip to Mecca, Saudi Arabia!