Discover Our Diy Umrah Packages By Umrah Companions
By Funadiq Team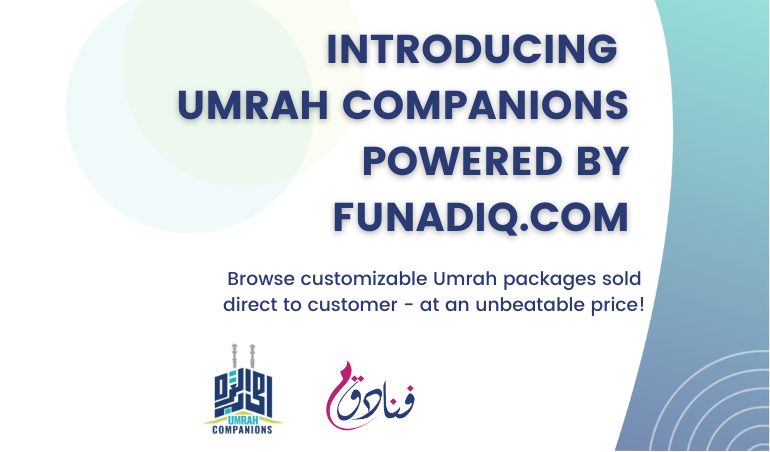 Umrah and the once-in-a-lifetime journey to Mecca & Medina, Saudi Arabia is practiced by Muslims around the world, to fulfill the last pillar of the Islamic Faith.
Our partners - Umrah Companions Powered by Funadiq.com are your go-to Umrah advisors to help you build a customized travel plan to Makkah, Saudi Arabia that meets all your needs, and ensure you have an unforgettable experience of Umrah pilgrimage in Mecca & Madinah, Saudi Arabia.
Umrah Companions offers a wide variety of Umrah packages to meet every Muslim traveler's needs and budget and offers the added ease of the online Umrah Visa.
Our mission is to make the Muslim pilgrimage journey to Mecca, Saudi Arabia for Umrah liberating & comfortable. We promote the best Mecca & Madinah hotels for Umrah, affordable Umrah packages, and issue Umrah Visas to Muslim travelers around the world.
DIY Umrah Packages by Umrah Companions (do-it-yourself Umrah packages + Umrah visa) enables you to customize your trip to Mecca, Saudi Arabia to perform Umrah. Travelers are able to build their own Umrah trip how they want, whether you want cheap Umrah packages or 5-star Umrah packages; plan the best Umrah experience for your budget.
Post-Covid Umrah travel to Makkah, Saudi Arabia is complex and we are seeking knowledgeable, sincere, and resourceful companions more than ever that's why we are here to make this Islamic spiritual journey of Umrah for Muslims to travel to Mecca, Saudi Arabia memorable and hassle-free. Click here to learn more.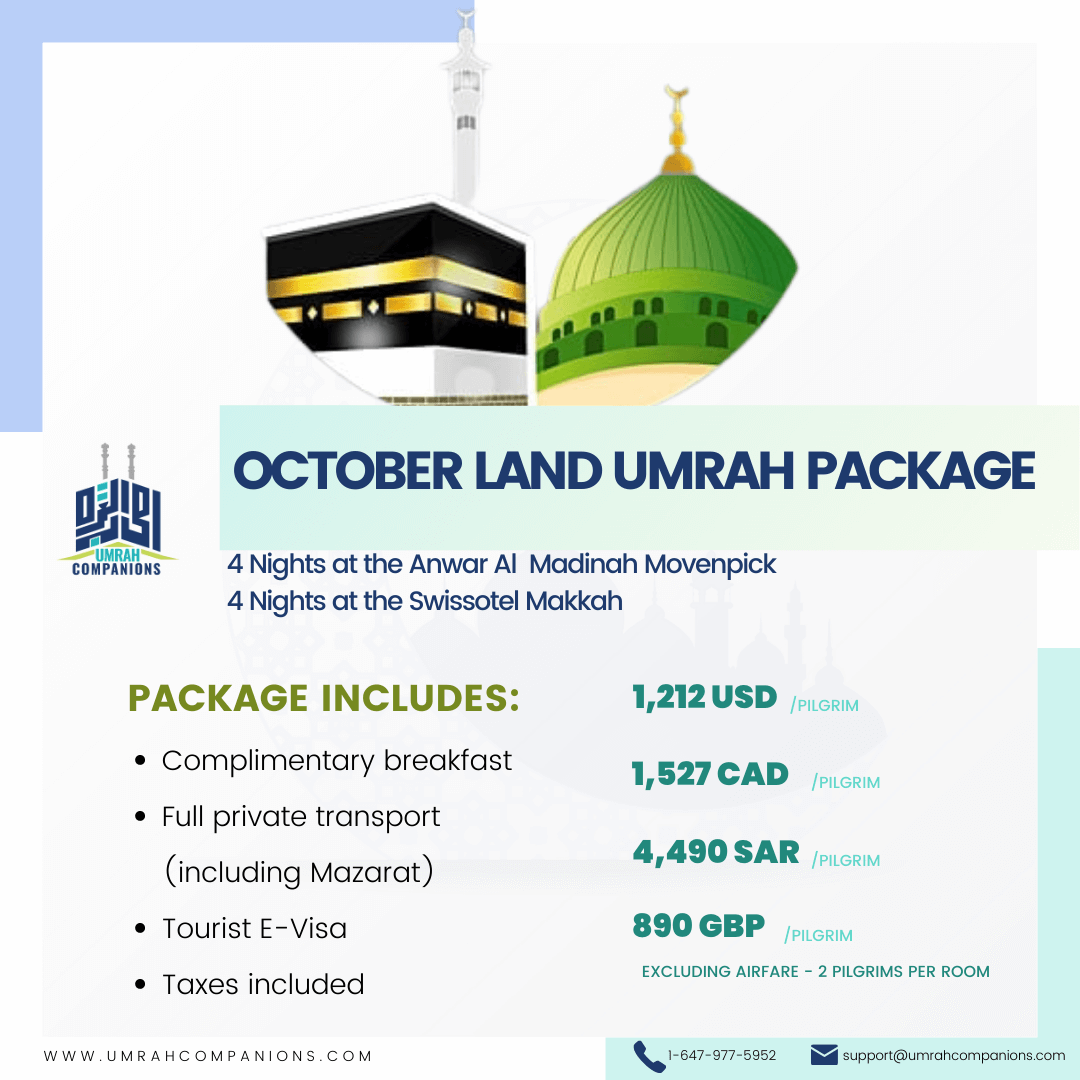 What is an Umrah package?
An Umrah package is an all-inclusive travel package to Mecca, Saudi Arabia purchased by Muslims from every country and typically offered by travel agents.
UmrahCompanions.com is your online travel agent offering the best Umrah packages. An Umrah package includes: - Umrah Visa or Saudi Tourist Visa - Return Flight to Saudi Arabia in Jeddah airport or Madinah Airport - Scheduled Transport from Airport to Mecca Hotel - Confirmed Transport for Sightseeing in Mecca and Islamic history of Makkah - Scheduled Transport from Mecca Hotel to Medina Hotel - Confirmed Transport for Sightseeing in Medina and Islamic history of Madinah - Scheduled Transport from Medina Hotel to Airport - Umrah Guide.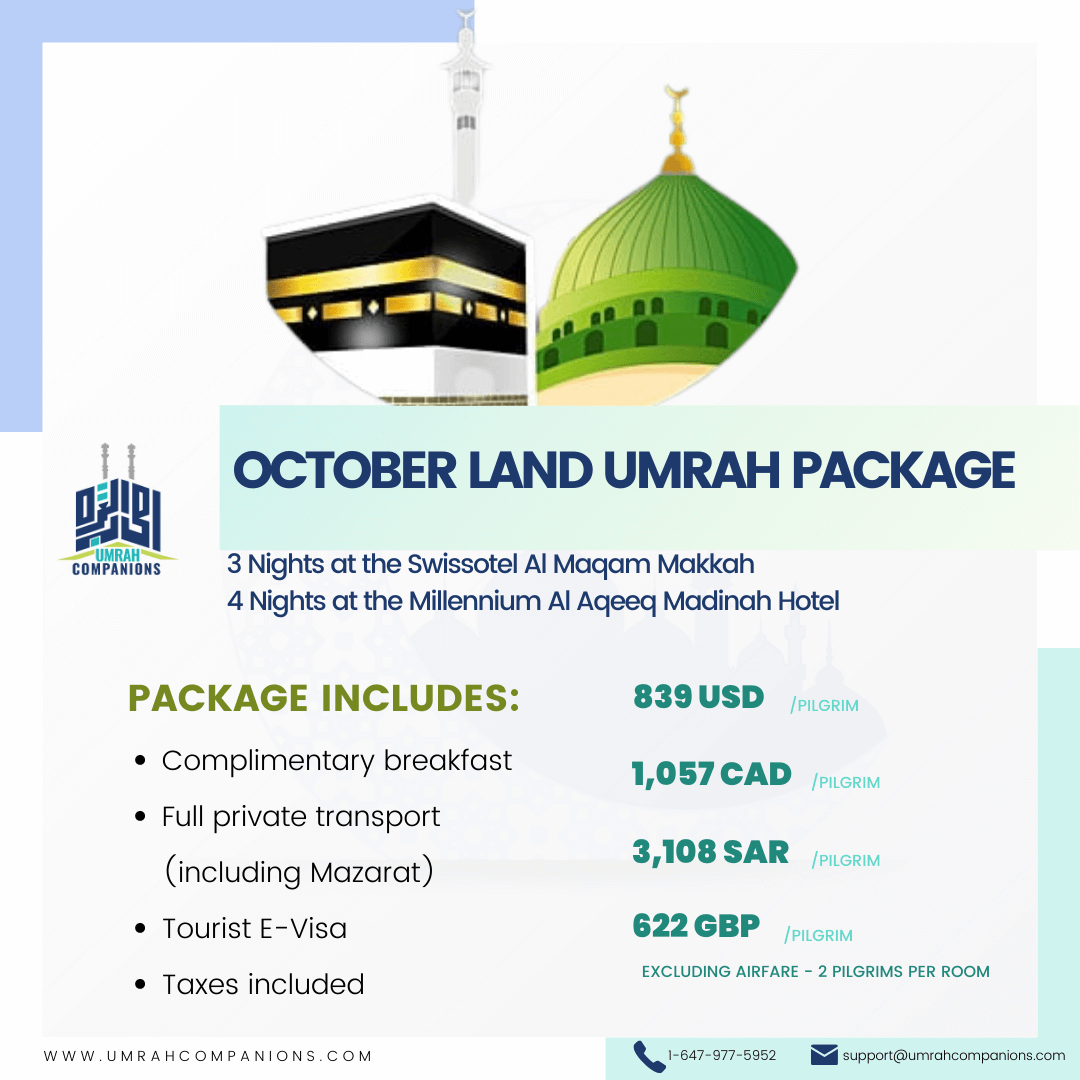 Umrah Visa
Umrah Companions eliminates the stressful Umrah Visa process and now offers travelers affordable Umrah visa prices and Saudi tourist E-Visa options inclusive of the cost of the Umrah packages. Umrah Visas can now be processed and issued online upon the purchase of an Umrah Package.
Saudi Tourist E-Visa
Umrah Companions also offers travelers the Saudi Tourist E-Visa which is a one-year, multiple-entry Saudi tourist visa, allowing travelers to spend up to 90 days in Saudi Arabia. It covers tourism-related activities and entry into Makkah to perform Umrah pilgrimage and excludes other activities such as studying.
Visit https://visa.visitsaudi.com to learn more and ensure your country of residence is eligible for travel.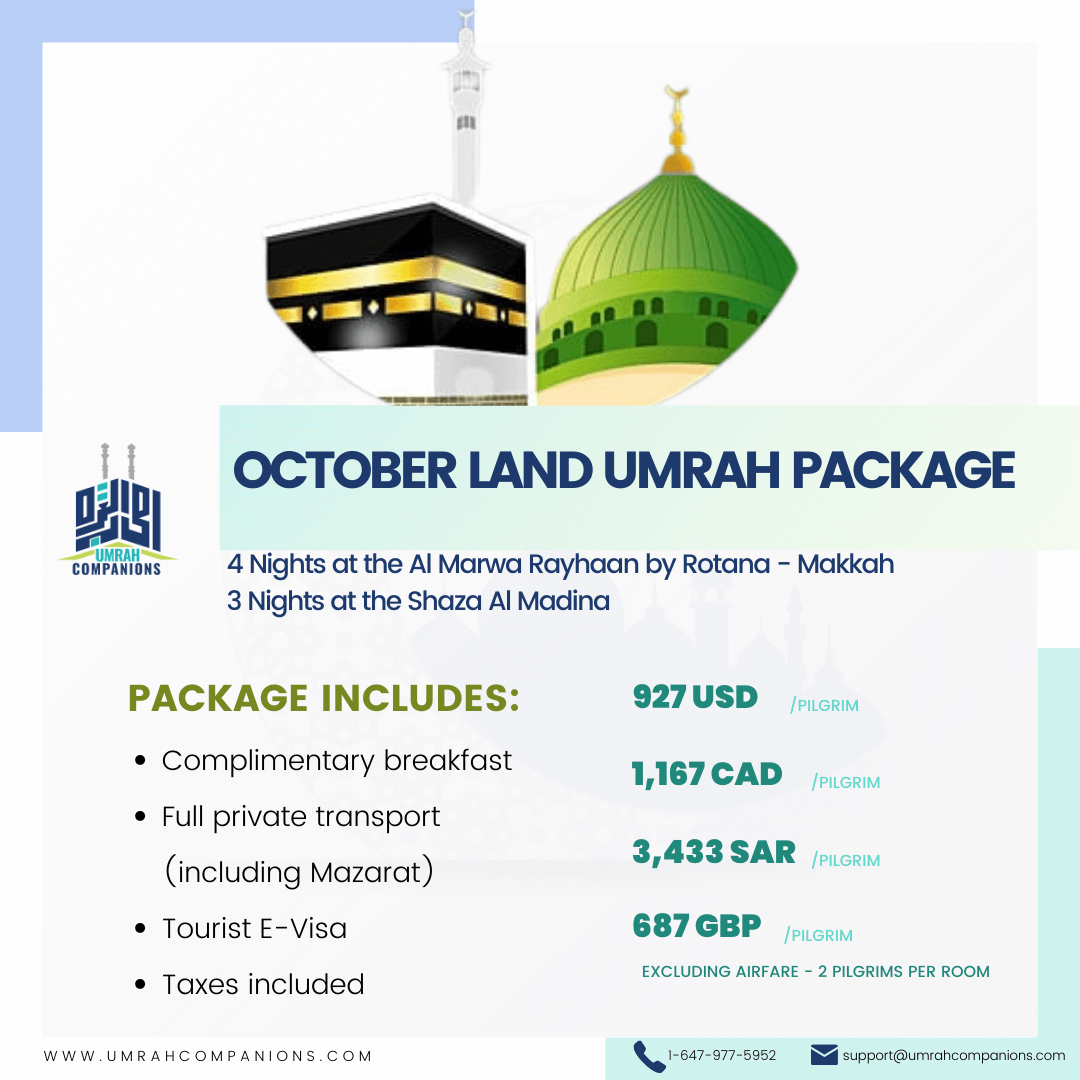 Umrah Packages
Visit UmrahCompanions.com today to view our current deals available for October as well as for the upcoming months. Whatever your availability is, we have Umrah packages for anywhere in the world. We offer a wide variety of Makkah hotels near Haram and Madinah Hotel near Masjid Al Nabawi.
Hotel options include but are not limited to:
Please note that hotels require 2 Umrah travelers/pilgrims per room to learn more click here.
2021 Umrah packages will run for the next 3 months and will expire on December 31st. Our DIY Umrah land packages allow travelers to customize their experience. From the options shown below, you have the ability to change either of the hotels in Mecca or Madinah and also select the type of transport you wish. These Umrah packages also include everything from complimentary breakfast to private transportation (including Mazarat - sightseeing in Mecca & Medina) throughout your trip, as well as all tourist E-Visa & Umrah Visa fees and taxes, are included.
If you wish to change one of the hotel options outlined just contact us via email at support@umrahcompanions.com, by phone at 1-647-977-5952, or "Inquire Now" and we will do our best to build your umrah package to travel to Mecca, Saudi Arabia.
We have 5 Umrah packages available for the month of October and more Umrah packages in 2021 and Umrah packages in 2022 to be announced soon.
Our Umrah packages vary in length from 7 to 8 nights, all coming equipped with a Tourist E-Visa or online Umrah Visa for each traveler in your Umrah group, Saudi Umrah transportation and breakfast are included in your Umrah package.
Learn More about the Umrah process and join us as we are your companion on this spiritual journey to Makkah, Saudi Arabia for the Muslim Umrah pilgrimage.