Walking Through Digitization In The Hajj & Umrah Industry
By Funadiq Team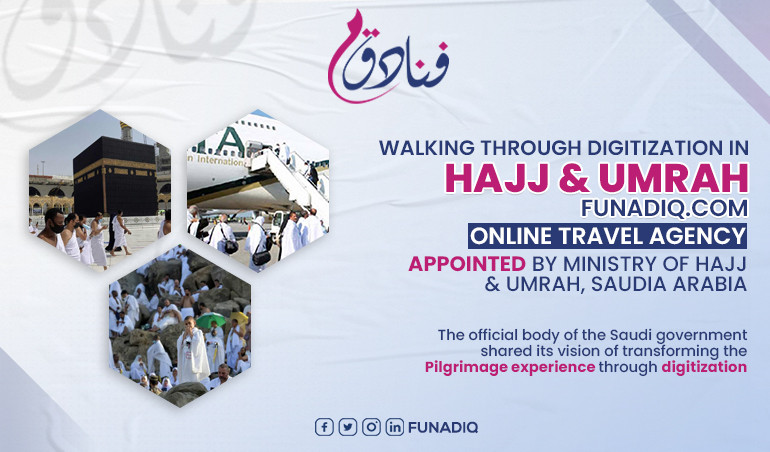 The world around us is rapidly changing, technology is taking over as the driving force to reformation, new ideas inspired by broader visions are surfacing; all of this amounts to the need for us to adapt to this rapidly changing world and align ourselves alongside this fast-paced life.
Similar to what we see happening in the world around us, The Ministry of Hajj & Umrah, the official body of the Saudi government has shared its vision of transforming the Pilgrimage experience through digitization.
The Ministry of Hajj and Umrah is responsible for and has authority over the entire Umrah & Hajj sector across the globe. In their response to the digital pivot, the Maqam Global Distribution System was initiated. The Maqam GDS system has appointed 28 certified online websites to issue valid Umrah reservations, such that any booking that bypasses this system will not receive an Umrah Visa.
Funadiq.com, stemming from the underlying values of honesty, responsibility, transparency, and customer satisfaction, envisioned a similar remaking in the Hajj and Umrah sector as set out by the Ministry of Hajj & Umrah. This long but fruitful journey started in 2019 when Funadiq first applied with the Ministry for the Maqam certification, and are honored to have successfully secured it a few months ago.
While the interim period of restriction during Covid-19 was unfortunate for the entire Muslim community, the Ministry and Funadiq stayed focused on their vision to innovate the pilgrimage experience, running multiple tests during this stretch time to best serve our clients. Team Funadiq's dedication to commencing Pilgrimage once again with security and ease led them to receive approval from the Ministry's technical team alongside a KPMJ evaluation.
Defining the way forward, the Ministry, with its ideal vision of complete digitization in the entire sector, has made it clear that all hotel and transportation bookings are to be through this system. Moreover, it has also launched two applications with the name Tawakkalna & Eatmarna to allow pilgrims entry into the mosque by registering for an Umrah Permit.
Funadiq, an embodiment of the Ministry's vision, is now at the forefront of this digitization, scripting the new reality.
We are with our customers. We are with you!