Solutions For The Recent Changes In Umrah Policies
By Funadiq Team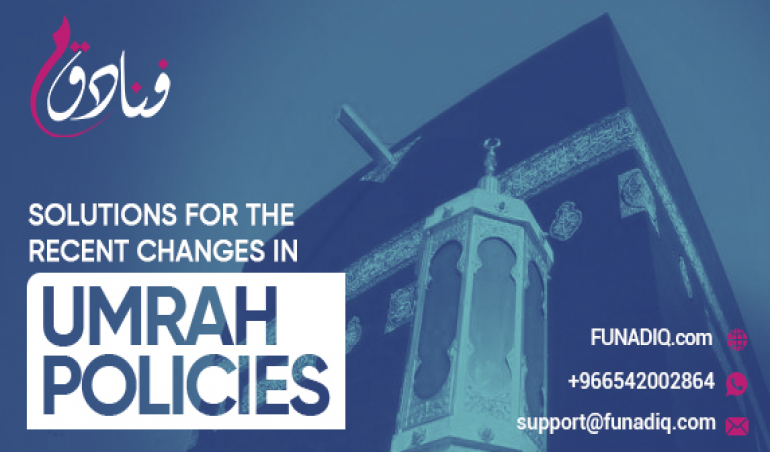 The recent changes in policies of Umrah have created huge concerns among travel agents and pilgrims. In this season for Umrah H1441, the Saudi Government has introduced a new system to serve pilgrims more conveniently.
The changes are never easy initially when they occur in any industry. Currently, it is becoming really difficult especially for travel agents to carry out their business operations.
GDS (Global distribution system) is developed by the Ministry of Hajj & Umrah by the name of Maqam that will provide the complete information of all Makkah and Madinah suppliers to approved e-commerce websites.
Solution for Hotel Bookings
Until now, a large amount of Makkah and Madinah hotels are still not active in the Maqam system. Now, it is essential for all hotels to be registered with the Ministry of Tourism Saudi Arabia and receive their registration document (Tasneef) in order to be active in the portals that are authorized by the Ministry of Hajj & Umrah (Tripshop.com and Umrahme.com, etc.).
All of the hotels who have an active Tasneef issued by the Ministry of Tourism in KSA will be shown in the Maqam system. The hotel staff will be responsible for managing their hotel data in Maqam through a system called CRS (Central Reservations System). They are required to upload the pictures of hotel rooms, mention the availability of each type of room and their prices respectively.
This information will be published via CRS and distributed to third-party websites through the GDS (Global Distribution System) Maqam. After the completion of this entire procedure, users will be able to search and book these hotels through the OTA (Online travel agency) website (Tripshop.com or Umrahme.com). Pilgrims shouldn't book such hotels that are not available/listed on the OTA.
Solution for Travel Agents
Whether it is a hotel booking, Umrah visa, and transport, all operations will be processed under authorized portals by the Ministry of Hajj and Umrah.
Travel agents are responsible to ensure that bookings are confirmed and that reservation is paid for at the respective hotels and transportation companies. Then the system will generate a unique reservation number (BRN) that will be entered in the Electronic Umrah visa form. If travel agents don't have the BRN, they cannot process the Umrah visa, so it means that the hotel and transport BRN is compulsory to get the visa.
The major concern for travel agents is that now hotel and transportation cost by the approved websites from the Ministry is non-refundable and non-changeable. It has given a headache to travel agents because usually, people do not make complete payment in advance. They also expect some relaxation while making payment. Pilgrims may also face a situation now when their Travel agent will ask for full payment.
Travel agents are really worried about their business due to the complications of the new system and some of them have already experienced huge losses due to lack of knowledge, however, click here and register with us today, we will keep you up to date about the current news in Makkah/Madinah.
Solution for Pilgrims
Recent changes in Umrah Visa policies have made the registration procedure convenient for the pilgrims. They can buy their Umrah Visa instantly through the newly introduced E-Visa system by the Ministry of Hajj & Umrah.
As a pilgrim, you must ensure now that your whole package including hotel booking, transport, and air ticket, should be finalized at the time of Umrah Visa processing. The reason is that now charges for all the services provided by the approved websites are non-refundable, so if you cancel your plan due to an emergency or any other reason, you are required to forfeit your booking.
Travel agents, pilgrims, and all the individuals that are associated with the Hajj and Umrah industry will take some time to adapt to changes implemented by the Ministry. The important thing is to stay updated for the latest news, so you can spread the correct information to the relevant people on different forums.
If you have any questions or concerns, leave a comment below!