Kingdom Of Saudi Arabia Institutional Quarantine Packages
By Funadiq Team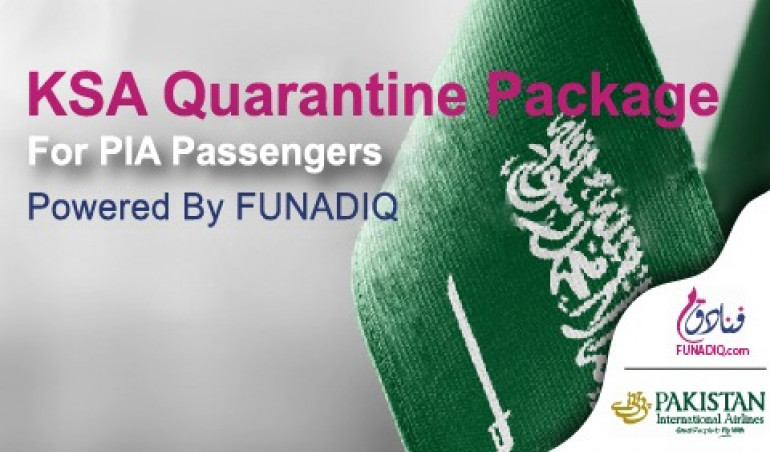 Dear Valued Partner,
On 20th May 2021, a new travel requirement was made official by the Kingdom of Saudi Arabia, where all airline travelers must purchase an official Quarantine Package for 7 nights prior to arrival in the Kingdom of Saudi Arabia unless mentioned otherwise. Travel Medical Insurance to cover COVID-19 related treatment is also mandatory.
PIA passengers can now book their Saudi Quarantine Packages with Funadiq.com when travelling to the Kingdom of Saudi Arabia in Riyadh, Jeddah Dammam & Madinah Al Munawarah. Medical Travel Insurance can also be issued using FUNADIQ.com.
Why do you need to buy a Saudi Quarantine Package?
A Fully paid Saudi Institutional Quarantine package is mandatory for passengers of Pakistan flights to Saudi Arabia and will be checked prior to boarding the flight as well as upon reaching any of the airports in Saudi Arabia in the cities of Jeddah, Riyadh, Dammam, Madinah, Al-Qassim.
What are Saudi Quarantine Packages?
Saudi Quarantine packages are a precautionary measure by the Government of Saudi Arabia in an effort to promote safety and tourism while addressing the danger of Covid-19.
The government of the Kingdom of Saudi Arabia, Airline partners like Pakistan International Airlines, and FUNADIQ.com are committed to your safety.
All KSA Institutional Quarantine Packages to Jeddah, Riyadh, Dammam, Madinah, or Al-Qassim must include:
Hotels stay offered in each respective category - Approved by the KSA Ministry of Health & Ministry of Tourism
Hotel booking for 7 nights

Full-board meals - Breakfast, Lunch, and Dinner delivered to your room (3 times/day)

One way transport from Saudi Arabia Arrival airport to your Quarantine Hotel

2 Covid-19 PCR Test – 1st test: 24 hours upon arrival – 2nd test: Quarantine Day 7
Do you need to buy a Saudi Quarantine Package when travelling to Saudi Arabia?
To be classified as exempt from institutional quarantine in Saudi Arabia, passengers must provide the necessary documentation.
Please ensure you check the Saudi Arabia Ministry of Foreign Affairs website and the KSA Public Health Authority website for updates.
Are you booking a flight from Pakistan to Saudi Arabia?
Fly with Pakistan International Airlines and get your Institutional PIA quarantine Package for the Kingdom of Saudi Arabia
Please visit Quarantine.Funadiq.com or contact your Airline or local Travel agent.
Have more questions about Saudi Arabia's Quarantine Packages?
Comment down below and we'll try our best to answer your questions or speak with one of our experienced Live chat agents.