Jannat Al-Mualla: Cemetery In Makkah
By Funadiq Team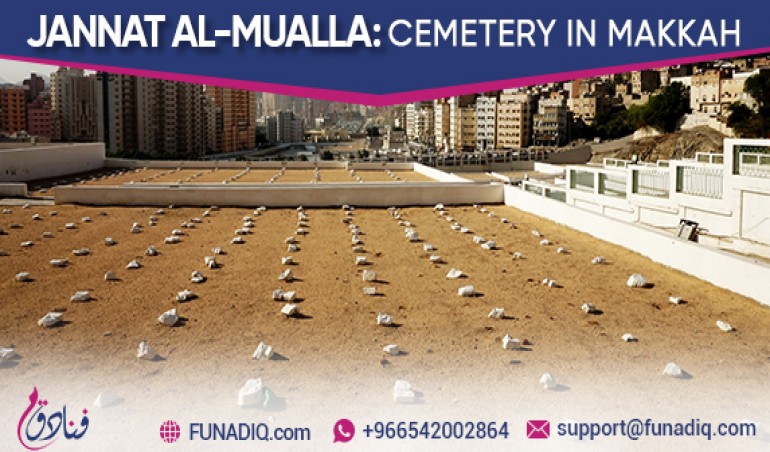 Jannat Al-Mualla is the renowned cemetery in Makkah that has the graves of eminent individuals from Islamic history including the wife of Prophet Muhammad (P.B.U.H), His (P.B.U.H) two sons, companions, scholars, and other righteous individuals. 
This guide will provide you the complete information of Jannat Al-Mualla and will surely make a great addition to your knowledge.
Location
Jannat al-Mu'alla is located in the north of the great mosque of Makkah (Masjid Al-Haram) to the center of the city around 460 miles west of Riyadh. The place is known to be the ancient burial place of the entire Arab history.
Significance in Islamic History
The cemetery is located not very far away from the great mosque of Makkah and known to be the second most famous cemetery in the Islamic world. His (P.B.U.H) Grandfather (Abdul Muttalib) is also buried here. This ancient cemetery is one of the sacred places of Islamic history and was well-known even before the birth of Prophet Muhammad (P.B.U.H).
Demolition of the Cemetery
In 1925, under the reign of Ibn Saud, many of the landmarks were destructed including this cemetery. So as a result of it, there is no dome, tomb or gravestone remained except the small piles of rocks mark where bodies are buried. The decision had varied views with some people supporting it and some were opposing it. 
The tombs in the cemetery had marble and white-stone grave markers before the reforms. Domed shrines were also present that showcased the tomb of Hazrat Khadijah (R.A), Abu Talib and others.
Cemetery's Current Condition
Currently, the cemetery is surrounded by a long white wall. Rocks highlight the places of dead people without any clear identification, so mostly pilgrims pay their respect to the whole area. There is not any entry fee for the cemetery and it's opened all year.    
Hopefully, the above-mentioned information will enlighten you and make you realize the importance of Jannat Al-Mualla in the Islamic world. Keeping yourself updated about the historical Islamic places and the latest changes occuring in the Hajj and Umrah industry will enable you to spread the information to the people who are looking for it.