Jabal Al Nour: Mountain Of Light
By Funadiq Team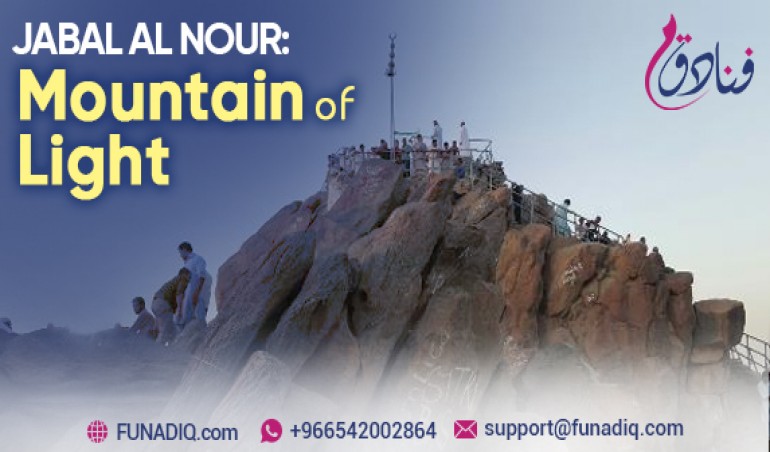 Jabal Al Nour is known as the hill of illumination and holds a great place in Islamic history. Hira cave is one of the reasons for the importance of this place. It is located in Mecca and it's a major attraction for the pilgrims around the world.
For the pilgrimage to Mecca, every year, people from different corners of the globe come in large numbers to visit this place.
Here is the complete guide to enlighten you about this historical Islamic place and make you realize its significance.
Location
It is the place where our beloved Prophet Muhammad (P.B.U.H) received the first of his revelations. The mountain is located almost 5 Km northeast of the Grand Mosque in Makkah.
Every year pilgrims climb this steep hill to experience the spirituality of the Hira Cave as its the place where Prophet Muhammad (P.B.U.H) spent time in meditation before his Prophethood. The mountain is almost 2100 feet tall and it may take two hours for the healthy person to reach the peak.
Hira Cave
Hira Cave is smaller in size that has a length of 4 meters and a width of over 1.5 meters. Five people can sit in the cave at one time. While climbing the mountain you need to stay hydrated, so you need to bring sufficient water and flashlight as well if you are going at night.
After taking almost 1200 steps, you'll reach the top of the hill. There is a sign of the painted stone that indicates the Hira cave. The road that leads to the mountain is quite narrow that is why it is blocked mostly due to heavy traffic.
Significance in Islamic History
The place itself holds special importance in the history of Islam. Every year while performing pilgrimage to Mecca, pilgrims in large numbers make their way up to the mountain.
Not worrying about the scorching desert heat, pilgrims visit the place where Prophet Muhammad (P.B.U.H) received the heavenly revelation. This shows the significance of the place in the eyes of Muslims from all around the world.
It is just amazing to imagine how Prophet Muhammad (P.B.U.H) climbed this steep mountain so many times and also stayed there in harsh climatic conditions.
Also, Hazrat Khadijah, the elderly wife of Prophet Muhammad (P.B.U.H) made huge sacrifices by climbing the mountain to take provisions to her husband during his isolation period in the cave.
Jabal Al Nour is the place that shows the sacrifices and efforts of our beloved Prophet Muhammad (P.B.U.H) that He made to spread the righteous values of Islam. If you ever plan a visit to Mecca, this place should be on your top priority list to visit. Keep visiting here for more information about historical Islamic places and the latest changes occurring in the Hajj and Umrah industry.