How To Choose Best Umrah Deals
By Funadiq Team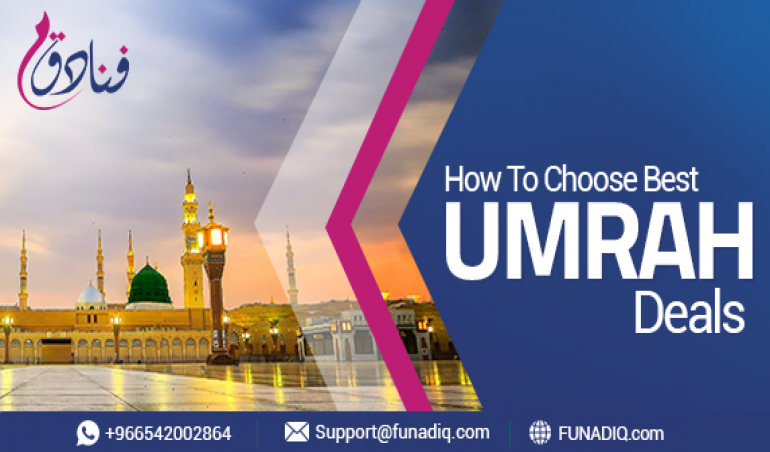 Umrah is a special occasion that holds huge importance in the life of all Muslims. It gives you a great reward and fulfillment. Annually, millions of Muslims come in large numbers from all around the world to perform Umrah.

Various factors are involved in the Umrah that you should consider in advance to experience the Hassle-free journey. Best Umrah deals play a key role to meet all your needs effectively during the journey.
An ideal Umrah package is the one that provides you accommodation, transport, visa, and airfare services within your budget.
Keep in mind the following key points before choosing the Umrah deal.
Reliable Travel Agent
When you are approaching the travel agent to get the Umrah package then you should first inquire about his market reputation. Also, make sure that your agent is an approved dealer, so you don't have to risk your money and chance to visit the holy land.
Affordable Deals
Discounted deals help you to manage your budget throughout the journey. Get such a package in advance because it is available for a limited time period. You can also get more discounts in this way especially economy airfares to and fro.
Get to Know Reviews of the Travel Company
The travel package that you get from a certain company should have a good market reputation. Let's say if you have reserved Umrah hotels through a certain travel company then go through the reviews and ratings of their services.
If the feedback of people is positive then you can avail of the services of that travel company without any hesitation but if it's negative then you should look for a better option.
Compare Your Umrah Deal with other Companies
Before making a final decision of your Umrah deal compare its cost and services with other available packages. The best option is to ask your friends and relatives which Umrah package of the travel company you should opt for.