Funadiq Introduces First Saudi-Pak Telehealth Center Established In Makkah To Facilitate Pakistani Pilgrims
By Funadiq Team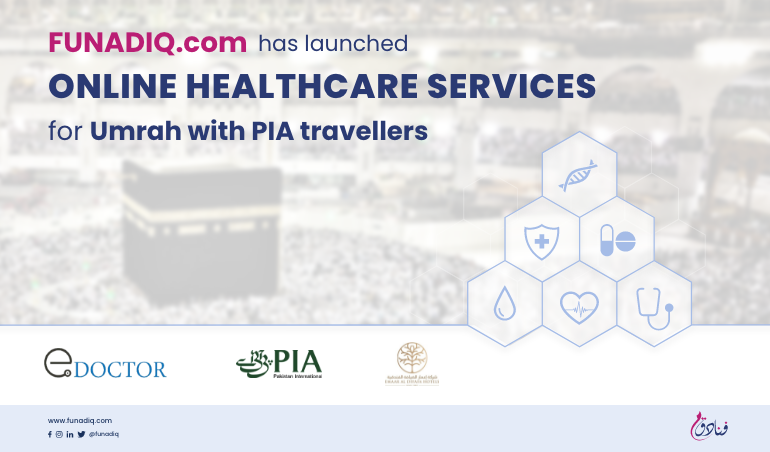 PUBLICATION BY ARAB NEWS
KARACHI: A Saudi-based company has joined hands with a Pakistani e-health service to set up a teleconsultation center in Makkah to facilitate Pakistani pilgrims in the kingdom through e-doctor program.
The Saudi-Pakistani Pilgrim Telehealth Center is established by Funadiq in Saudi Arabia and Educast in Pakistan. The facility is first in a series of such centers to be established in all major hotels of Makkah and Madinah with the help of Emaar Al Diyafa Hotels and Pakistan International Airlines.
Owned by Pakistanis, Funadiq uses artificial intelligence and blockchain technologies and is among the 34 exclusive online travel agencies approved by the Ministry of Hajj and Umrah of Saudi Arabia to process eight million transactions under the new Umrah system.
"The reason behind our decision to join hands with Educast is to provide medical facilities through e-doctors to Pakistani pilgrims during Hajj and Umrah to mitigate their problems in case they face medical emergencies," Salman Arain, the company's chief executive officer, told Arab News following the inauguration of the facility in Makkah on Saturday.
"We are the only Pakistan-origin company that is directly connected with new Saudi Umrah system," he continued. "We have presence in Pakistan, North America, Bangladesh, Saudi Arabia and many other key countries."
Most Pakistani pilgrims find it difficult to communicate with health providers when they need medical assistance in Saudi Arabia since they do not understand Arabic. Some of them even find it difficult to locate health facilities which can cost them substantial amount of money for consultation.
"The new initiative will make medical facilities available to pilgrims at their hotel premises," Arain said, adding: "The technology and operational partner is Educast which will arrange the e-doctor service."
The Saudi officials of Funadiq said they were using latest technology to serve pilgrims under the kingdom's Vision 2030 program.
"The online medical service is part of the facility we need to offer to help patients communicate with doctors in different languages," Muhammad Al Ghamdi, managing director of Funadiq, said in a video message.
The facility would be available in about 20 Emaar Al Diyafa Hotels in Makkah which have nearly 7,000 rooms, said the Funadiq CEO.
"Pilgrims staying in these hotels will be able to get first-rate health check-ups and advisory from e-doctors sitting in various countries," Abdullah Butt, the top official at Educast, told Arab News on Monday.
"The on-duty paramedics will enable remote doctors to evaluate pilgrim through connected biomedical sensors for skin, heart, pulse, eyes and physical appearance analysis, using high-definition microscopic cameras and measurement sensors," he added. "Each pilgrim will get their complete medical record created and uploaded on their smart phones so they can connect with their assigned online doctors at any time during their stay in Saudi Arabia."
Educast is operational in more than 27 countries and has offered e-doctor services to conflict zones like Yemen with the support of the Islamic Development Bank. The company has particularly focused on women in children through its telehealth operations in Yemen.
"Educast also played a leading role in supporting Palestinian women and children through more than 100 e-doctors by providing them telehealth services in Ramallah and West Bank," Butt said. "Most recently we have established first telehealth center in Kabul in collaboration with Afghanistan Society of Obstetrics and Gynecology."
Educast now plans to serve Mazar-i-Sharif and Kunduz by connecting them to its facilities in Tajikistan and Uzbekistan, he added.
Both Funadiq and Educast intend to expand their telehealth operations to Madinah after the success of the trial phase in Makkah.
"In the second phase, the model will be replicated in Madinah where there are more Emaar Al Diyafa hotels," the Funadiq CEO informed. "The telehealth service will also be extended to other lodging facilities where Pakistanis prefer to stay."
"In the next 12 months," he continued, "we will create 5,000 new jobs globally, plant 100,000 trees in Madinah, and feed thousands of pilgrims."
About the Author 
- Arab News Pakistan