3 Makkah Hotels That You Should Consider For Your Umrah Trip
By Funadiq Team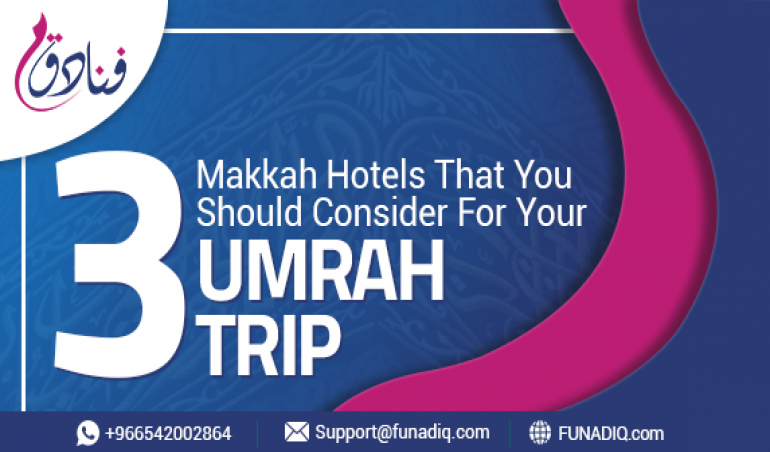 Planning for the Umrah trip involves various factors that you should consider to make your journey hassle-free and memorable. Accommodation is the primary factor that should be your top priority because it is really important that the place where you stay should have all the necessary amenities.
Whether you want to stay in Makkah or Madinah hotels you must do proper research first. It will give you the better idea that which accommodation package suits your budget and needs. Here are some of the Makkah hotels that you should consider for booking while planning for the Umrah trip.
Athman Hotel Makkah
Athman hotel Makkah offers high-quality services at reasonable prices. The hotel is located at a distance of 6 km away from Haram, North Aziziyah. The hotel possesses modern amenities including complimentary Wi-Fi, well-furnished rooms, air-conditioned rooms, luggage storage, and great room service.
Numerous sacred places are situated near the hotel including the Faqih Mosque, Al Rajhi Mosque, Safa and Marwah, Great Mosque of Makkah and King Fahad Gate.
Dar Al Eiman Al Khalil
The 3-star hotel is located 600 meters away from Haram, Ibrahim Al Khalil Street. Many shopping and commercial centers are located near the hotel.
The hotel provides awesome services and if you want cheap hotels Makkah booking then this hotel could be an ideal choice for your journey. The hotel is situated near the important town places like Makkah central station, metro station, Ajyad emergency hospital, and Taif Airport.
The hotel rooms are equipped with LED TVs, carpeted floors, and comfortable furniture. Laundry services are also available in the hotel and if you want any assistance, you can contact the room service that is available 24 hours.
Conrad Hotel Makkah
The 5-star hotel is located 100 meters away from Haram, Jabal Omar. A luxurious hotel is an ideal place for pilgrims to stay. At the walking distance from the hotel Al Diyafa Mall, Al Hijaz Mall and Faqih Mosque are located.